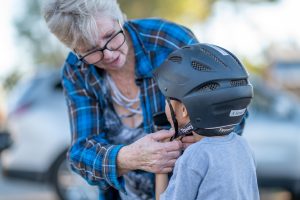 At Exodus Farms, the "healing herd" is busy at work. The 16 horses, donkey, mini mule, and four mini horses (not to mention a farm cat and dog) help serve the 160+ youth who visit regularly for therapeutic lessons.
The farm, located in Anderson, has been working with youth since 2002, helping foster skills like emotional management, confidence, boundary-setting, and responsibility.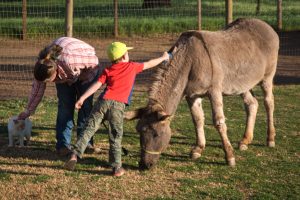 And the animals themselves often are on their own healing journey as well, arriving at Exodus with infirmities, behavioral issues, or advanced age.
Recently, Exodus was able to utilize an ACEs Fund grant to open up two new programs — one to support grandparents raising grandchildren with high ACEs scores, and one for parents or guardians that are struggling with grief due to the death of a child or co-parent. In addition to funding a therapist position, the grant helped Exodus facilitate 38 sessions across both groups over the past year. Groups met at community host homes and were led by Kate Garnaas, M.A., LMFT #132491.
"Although so much of what we do at the farm is about impacting kiddos directly, over the past 20 years, we've also recognized how important it is to intervene to positively impact the adults who are part of those children's lives," said Jenni Patterson, Head Wrangler at Exodus. "Stopping generational cycles of ACEs and making a true generational impact is about the whole community coming together to support and mentor these children."
Both groups reported developing improved caregiver skill sets, learning to better handle emotions, stresses, and challenges – as well as creating community among peers.
"It's reassuring to know we're not the only grandparents foraging our way through today's issues, school homework, or disciplining differently than 30+ years ago. Loving our grandkids is our common bond with each other," said one participant.
"I feel as though the group is a safe place to be able to express our feelings, challenges, and progress," said another.
Click here to learn more about Exodus Farms.