Current Grantee Information
Submit a Grant Report
Click here to preview questions, fill out and submit your Grant Report online through SmarterSelect.
Grant Acknowledgment
Thank you for sharing the good news about the funding you received! Please tag us at @CFNorthstate and word any acknowledgements as follows:
"Funding provided by a grant from the (insert Fund Name) of the Community Foundation of the North State."
Apply for a Grant
Grant proposals are accepted during specifically designated cycles. Please refer to each individual grant opportunity for a link to the online application form and deadline.
No paper applications are accepted. You can watch a video or read our step-by-step instructions for how to submit a grant application.
Please allow approximately three (3) months for review from the application due date. Notifications will be made to both awardees and non-awardees by mail after the review period.
FALL 2021 GRANT OPPORTUNITIES MINI-WORKSHOP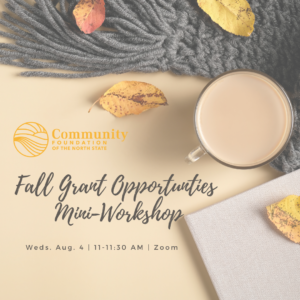 CFNS staff present an overview of the funds to determine eligibility and help your organization submit the strongest possible application.
Click HERE to view the recording and/or HERE for the slide deck.
What Grant Opportunities are Available?