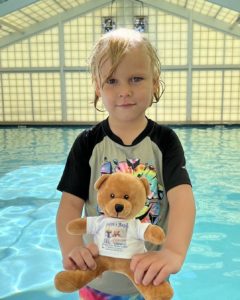 Is there any symbol more synonymous with comfort than that of the Teddy Bear?
To Janel Gesberg, the bears were always central to her vision. Her mother, Evelyn, had been suffering from ALS (also known as Lou Gehrig's Disease) and the night she passed away Janel knew she wanted to start a fund in her mother's honor. Philanthropy begets philanthropy, and after a lifetime of community service, it seemed fitting to continue to pay it forward in this fashion.
"I had an epiphany when she passed," said Janel. "I visualized children holding Teddy Bears and I knew I wanted to help children and call it Evelyn's Angels. It really came to me in a vision that night when she died. My mom was so sweet. So full of love for everyone."
The Evelyn's Angels Fund was established at the Community Foundation in 2010. Its missive was to grant financial resources and Teddy Bears to local organizations that support children facing illness, hardship, or have other immediate needs. In the years since then, Evelyn's Angels has given bears and grants to organizations like NVCSS, the Shasta Family YMCA, and Ready for Life Foster Agency.
"When I see a child holding a teddy bear after graduating from swim lessons, I cry," said Janel. "It is the most rewarding thing in the world. My heart melts when I see these kids and the wonderful stories about how these lessons changed their lives."
Janel and her husband also have brought bears to evacuation centers in the aftermath of devastating wildfires.
"My father was on the Board of Directors (for the World Peace Rose Garden in Sacramento) and my parents were very active donors," Janel said. "My mom put lots  of friends and family members on engraved plaques in the rose garden. So, I saw their philanthropic spirit and realized how their gift changed peoples lives."
Janel knows the Evelyn's Angels Fund and its gifts keeps her parents' ideology alive.
"(My mom) was such a big part of our family because she had such a huge heart. Her heart was full of compassion and her sweet spirit touched everyone she met."
If you are interested in learning more about Evelyn's Angels or donating to the fund, please visit https://cfnorthstate.org/donations/evelyns-angels/