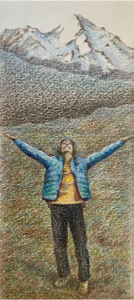 Nancy Driscoll's lifetime wish was to support young women in discovering their "magic." Whether working directly with young people or coaching board and staff members at organizations large and small, Nancy always found a way to inspire, lift up, and empower.
Nancy was also a protector of nature. Nancy felt that the forests and mountains of Northern California were her temple, and she worked tirelessly to protect wild and sacred places and to bring our community into nature's presence.
The Nancy Driscoll Foundation Scholarship was established to benefit and support Siskiyou County high school graduates planning to attend an accredited two or four-year college or vocational school. This scholarship will award ten, $5,000 scholarships this year.
Income-Based Award
Deadline: Wednesday, March 13th, 2024
Open Application Window: November – March
Eligibility Criteria
Siskiyou County graduating high school senior
Minimum GPA of 2.5
Must demonstrate financial need- verification required via completion of the FAFSA or CA Dream Act Financial Aid application
Planning to attend a two- or four-year college, or vocational school the fall semester following high school graduation
Merit-Based Award
Deadline: Wednesday, March 13th, 2024
Open Application Window: November – March
Eligibility Criteria
Siskiyou County graduating high school senior
Cumulative GPA of 3.0 or higher
Planning to attend a two- or four-year college, or vocational school the fall semester following high school graduation