The Community Foundation recently released the final event totals for the December 1, 2020 online North State Giving Tuesday fundraising event. The 187 participating nonprofits in Shasta, Siskiyou and Tehama counties raised a record $1,123,815 in online donations for their charities. "Our nonprofit community provides important social services and opportunities that benefit our entire region. We're thankful for their incredible contributions and celebrate their success during North State Giving Tuesday," said Amanda Hutchings, Director of Community Impact at the Community Foundation. "Together with our sponsors and partners, the Community Foundation provided the opportunity for giving, but it is the work and giving hearts in our communities that always makes this event an inspiring experience."
In this sixth year of hosting the online event for qualifying, local nonprofits, the Community Foundation offered a new feature giving donors a chance to pledge volunteer time to participating organizations. "With over 8,150 donations received at www.northstategives.org on December 1st, donors also committed a collective 17,519 hours (valued at over $500,000) in volunteer time to participating organizations," said Hutchings. "In an era where volunteerism is much needed, this is welcome news for many nonprofits for the coming year."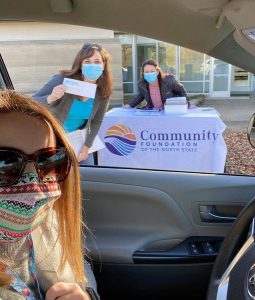 This year, in lieu of an in-person check presentation event and group photo of nonprofit participants, a drive-through pickup of event proceeds by each nonprofit occurred at the Community Foundation on December 17, 2020.
North State Giving Tuesday's presenting sponsor is Merchants Bank of Commerce, promoting the event for the sixth year in a row. "We are very thankful to have also had the support of 14 local business sponsors that each gave away $1,000 to one randomly drawn nonprofit during each hour of the event," said Hutchings. A detailed community report of the event by the Community Foundation is due for publication early in the new year.
Next year, North State Giving Tuesday will again be the Tuesday after Thanksgiving,
November 30, 2021. For detailed results, visit the website at www.northstategives.org.