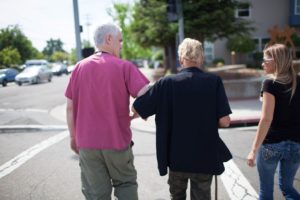 Since moving into their new facility, Hartman House, Redding's Pathways to Housing has crossed its final hurdle to becoming a medical respite facility for the area's homeless population. With the completion of construction this past fall, the space holds 15 beds for 10 men and 5 women, offices, a medical exam room, client resource room, dining area, living room, commercial kitchen, laundry, restrooms with showers and a garden. To date, Pathways to Housing has helped over 55 residents reclaim their health – and lives.
Here is one success story:
Brandi is a hopeful, creative woman full of new-found life and determination. After six weeks in the SCHC HOPE Medical Respite program, Brandi was able to recover from a series of illnesses, all while embarking on the road to recovery from drug addiction. Before admitting to the SCHC HOPE Medical Respite program Brandi had been experiencing chest pain for a week, ultimately finding herself stuck behind a restaurant, too weak to even lift her head. After three days of deteriorating, someone finally called an ambulance for her. The hospital concluded she had pneumonia, a lung abscess, and fluid around her heart, all while suffering a heart attack.
Two chest tubes later, Brandi could finally breathe again, however, she was still in critical condition. After Brandi was released back onto the street, Shasta Community Health Center's Dr. Patton found her severely decompensating at her camp during one of his outreach expeditions. He knew she would not make it long without medical intervention in a safe and clean environment and advised her to stay with Pathways to Housing while she got her strength back. She explained, "I was in so much pain that any time I woke up, I wished I could just get high and go back to sleep". If medical respite had not been an option, Brandi would have continued shuffling between camps, further exacerbating her condition.
Brandi affirmed that her recovery in the SCHC HOPE Medical Respite program was exponentially better than previous experiences she has had recuperating on the street. Initially, she was scared to death. However, once she learned to trust the SCHC and Pathways teams, something clicked, and Brandi flourished. She went from being isolated, sad, and afraid to someone who takes daily walks, chats up the neighbors, and wears a smile on her face. She occupied her free time by crafting handmade jewelry and even started selling it for extra income. Brandi was especially grateful to have the support of the SCHC HOPE Medical Respite program Case Manager, Sarah Till, who kept her motivated to complete her paperwork and SSDI interviews through her withdrawal period. Brandi said, "I would have never gotten everything done if it was left up to me alone, given the state I was in."
Brandi realized her medical conditions, along with drug addiction, were taking a toll on her body. She decided early on to take advantage of her time in respite and started addiction treatment right away. Once she began Suboxone therapy, she was able to gain a promising outlook in life and maintain her sobriety. At the end of her stay, Brandi was transferred to SCHC's Whole Person Care for additional case management and connection to housing. She reported feeling "nervous but excited," for the next chapter in her life, "like a kid waiting for Christmas". She was relieved to have secured a spot in a residential Drug and Alcohol Recovery Treatment program, despite the uncertainty of exactly where her placement will lead her. She declared that her time with Recuperative Care was amazing; her only regret being that she did not reach out for help sooner.