The Community Foundation of the North State has awarded a total of $25,000 to seven organizations based in Shasta, Siskiyou, and Tehama counties, who support the welfare of animals.
This competitive opportunity is open annually to nonprofit organizations and public agencies who provide the following services: supporting homeless animals, supporting owned pets (keeping pets in homes), supporting wildlife, supporting organizationally owned working animals that provide services to residents, and disaster preparedness for animals.
The Community Foundation received over 20 applications, an all-time high, illustrating the depth of need currently experienced by non-profits in our region – many of which are still recovering from cancelled fundraising events, a backlog of service requests, and the impacts of environmental factors like drought and wildfires.
Awards were granted to the following organizations: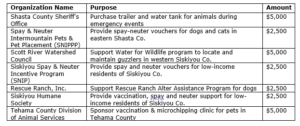 "As we humans have faced challenges amid COVID and wildfires, so too have our animal friends," says Megan Conn, Program Officer at the Community Foundation. "The past year has offered glimpses into how much we rely on each other… whether it's the comforting role pets have played in our lives during the pandemic, or wildlife's reliance on volunteers to fill watering holes during the drought. It's an honor and privilege to be able to reciprocate kindness and care to North State animals – through this special fund."
The Animal Welfare Fund at the Community Foundation provides critical support to many North State organizations and as an endowed fund, is able to grow, providing greater reach over time. If you're interested in leaving a legacy gift to help animals locally, please contact Kerry Caranci at kerry@cfnorthstate.org.
For more information about this and other competitive grant opportunities managed by the Community Foundation, contact Megan Conn, Program Officer or visit https://cfnorthstate.org/grant/grants/