Many artists will tell you that they see canvases everywhere. For Heather Griffin-Vine and the Tehama Creatives, that happened to be down an alley in central Red Bluff.
Turn onto Antelope Boulevard off Interstate 5 and the first thing that will catch your attention is the large-scale rendering of a woman in Día de Los Muertos makeup, replete with yellow, pink and blue flowers. It's striking against the brick orange façade of Los Mariachis restaurant which sits on the corner of Antelope and Main. It's also the beginning of a blocks-long stretch of alleyway showcasing the collective work of Tehama Creatives.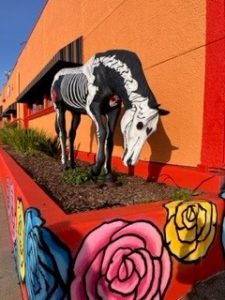 "None of this was here two years ago," said Vine, one of the six Creative Leaders who collaboratively run the Tehama Creatives. "It's been such an organic process. All of us paint because we love it and know the change it is making."
And anyone passing through Red Bluff will pay surely pay witness to that change. This public art peers out from almost every corner, paying homage to music, nature, and the town's heritage. Known primarily for its agricultural and mining history, Red Bluff has seen an arts resurgence in the past few years with the renovation of the State Theater and the creation of large-scale murals.
"Change inspires art and art inspires change," said Vine. "It's living proof what's happening in this town."
Utilizing a grant from The McConnell Fund and with the Tehama Economic Development Corp. as their fiscal sponsor, the Tehama Creatives held "Bold," a weeklong, large-scale mural project during October 2021. They painted six murals and encouraged the public to come and mingle with artists as they worked.
Since then, businesses have jumped on board, commissioning the group for a variety of projects. The Masonic Vesper Lodge reached out for two large murals spanning about 2,700 feet across the back and side of the building.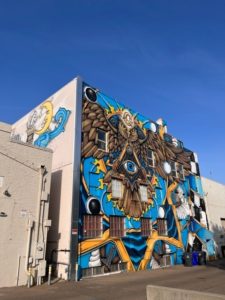 Helmed by Cottonwood artist Carl Avery, it took 14 days and 240 cans of spray paint to complete the work. The city of Red Bluff also hired the group to paint high-traffic bridges on Jackson Street that were being tagged almost weekly.  As studies have shown public murals can reduce incidences of illegal graffiti.
Inspired by the Cow Parade public art exhibit that has featured artist-designed cows on display in major cities throughout the U.S., Vine and the Creatives purchased seven fiberglass horses to complete a similar project. Apropos to Red Bluff's rodeo culture, the horses are slowly cropping up around town. A John Wayne-inspired horse sits just south of an American flag-adorned equine sponsored by the Red Bluff Rotary near the Cone & Kimball Tower. Between the seven original horses and 13 commissioned ones, Tehama Creatives has plans for 20 total horses displayed throughout Red Bluff. During Rodeo week, they plan to project a digital art show on a blank façade in the town square.
There is no shortage of momentum when discussing future plans with Vine. The Creatives are also working in schools with a program called Tehama Creative Connections, hosting maker hours from 3-5pm on Tuesdays and Thursdays. Kids are able to come create and find an outlet.
"I give them ideas," said Vine. "Or they do their own things. That's what I'm trying to teach these kids, there's no bad art. Either they're an artist or they just need to turn their brains off. Sometimes it's just about the process."
For the Creatives, they see this process of creating public art as valuable culturally, socially, and economically. More art, more partnerships with businesses, more community means a more vibrant – and more colorful Red Bluff.