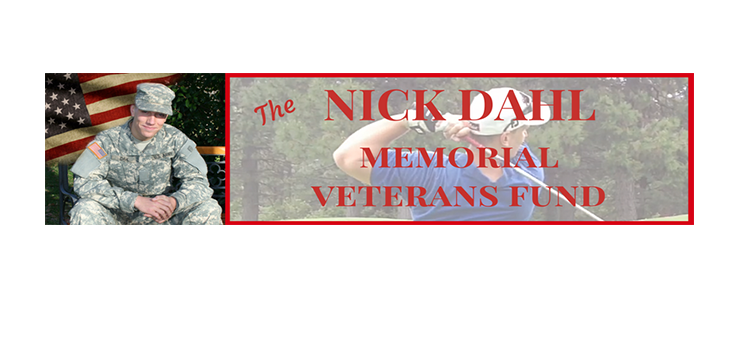 Nick Dahl Memorial Veterans Fund
The Nick Dahl Memorial Veterans Fund was established by Mike and Pam Dahl in memory of their son, Army veteran, Nicholas Dahl, as a means to assist local veterans with housing and to help with other veteran-related issues in the Redding community. The Dahl family shares his story here.
Nick was a life-long resident of Redding who attended Shasta Meadows Elementary School, Mountain View Middle School, Foothill High School and then Shasta Home School. When Nick was 12 years old he discovered his love of golf. He had such a passion for the sport and was an extremely skilled golfer. He played on Foothill High School's golf team and was active in Junior Golf. During his teenage years he could be found daily at one of the local golf courses. Nick also enjoyed riding dirt bikes and was an avid weight lifter.
Nick's father, older brother, Matt and cousin, Rog had all gone into the military, so it was no surprise when he decided to join the Army following his high school graduation. Nick left for Army basic training shortly before he turned 18. Following basic and infantry training in Georgia, he was stationed at Schofield Barracks in Hawaii and was a member of the 1st Battalion, 27th Regiment, 25th Infantry Division, Charlie Company, 3rd Platoon, 2nd Brigade Stryker Combat Team. Nick took great pride in being a Soldier and serving his country. He was deployed to Iraq in March of 2008, where he spent 14 months as a skilled combat soldier, patrolling Sadr City, Baghdad. As a soldier, Nick earned the Combat Infantry Badge, Iraq Campaign Medal with two campaign stars, Global War on Terrorism Service Medal, and the Army Achievement Medal. He was known by his squad as "Baby Arnold" (because he was the youngest in his squad and so muscular). Nick was a member of the American Legion Post #197 and the Wounded Warrior Project.
Nick was honorably discharged from the Army and returned to Redding in September of 2010. He suffered from prolonged war injuries resulting from combat actions, IED and mortar attacks; this contributed to an on-going battle with PTSD, Traumatic Brain Injury, and other medical issues. Despite the constant turmoil during his last few years, Nick's pride, happiness, and friendly nature were so evident when he was able to play golf, work out at the gym, or fish on the Sacramento River.
Nick fought his hardest battle ever trying to overcome the issues that affect so many of our Veterans. Sadly, he eventually lost his internal battle and constant struggle on October 14, 2014, at the age of 25, due to complications associated with PTSD and TBI. Nick died in Medford, Oregon, where he had been sent on the chance that a residential treatment program for veterans would accept him. Nick's family had tried to get him admitted into several VA treatment programs, but each time Nick was turned away and told his PTSD was too severe for their residential facility to treat.
"Nick has now found a peaceful place to rest in God's arms, but like many veterans' families, our family has lost so much due to PTSD and TBI and we want to help break this cycle," writes Nick's parents. "Our veterans deserve the treatment necessary so they are able to raise their children, have a place to call home, and an opportunity to grow old like the rest of us are given. Nick was never able to meet or raise his own son who is now six years old."
The Nick Dahl Memorial Fund has been very successful since the first fundraiser in October 2016; housing has been sponsored for over 60 local homeless veterans. Due to this sponsorship, many of these veterans have been able to establish much-needed V.A. medical care, have obtained employment, or enrolled in college.
The recent fires in our community have made the continued success of this fund even more important than ever; it will be much more difficult to find housing in the North State, and many local veterans are among those who have lost their homes. By providing a hand-up to local veterans who are struggling, we can continue to provide a stable environment, so they can get back on their feet and begin to rebuild their lives.
Funds raised will be used to sponsor housing and other urgent needs for North State Veterans.
Your gifts help improve the quality of life in our North State region. Our online giving service is safe, convenient and secure. Make your gift by clicking on the Donate button below. We can accept Visa, MasterCard, and American Express.