Knodel Family Endowment Fund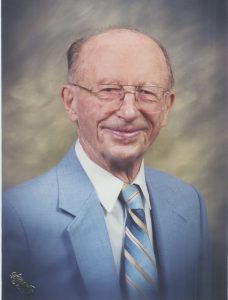 Mr. Ervin Knodel was a longtime Redding resident that believed in giving back to the community that did so much for him. He created this fund to benefit the less fortunate in the Redding area with an emphasis on education for youth. He believed that helping youth achieve a brighter future will, in turn, allow Redding to have a bright future as well. A portion of this fund will also benefit Trinity Lutheran School.
Ervin Frank Knodel was born in September, 1916 to a hardworking family in North Dakota. His father was a wheat farmer during World War I and due to Ervin's work on the farm and with other odd jobs to help support himself and his family, he only just managed to obtain an 8th grade diploma. He continued to work with or near his family as they moved to Montana during the days of the Great Depression and the beginning of the Second World War.
After the bombing of Pearl Harbor, Ervin joined the millions of other young men who left home to serve their country. He joined the Navy and was sent to Kansas City to be schooled in aviation sheet metal work. The majority of his Naval career was spent in San Pedro where he fitted droppable fuel tanks to the jets heading for war. As the hardworking man that he was, he also had a side job of unloading box cars for $1 per hour.
After the war ended and Ervin was discharged he went to work at Bullock's Department Store in Pasadena as a carpet layer. He then met his first wife Lou and moved to Montana to be near his family where he continued to work as a carpet installer for 15 years.
As Ervin's back began to give him problems, making it impossible to continue in the carpet business, he began to search for a new venture. He found a hamburger stand in Ohio that he wanted to replicate and then began his search for the perfect location. He visited every town in Oregon, Florida and Northern California until he found the perfect location in the Enterprise District of Redding. Ervin, Lou and Ervin's brother moved from Montana and in May, 1962 began pouring the foundation for the Enterprise Pac-Out. Pac-Out became an iconic restaurant in Redding and everyone who knew Pac-Out knew Ervin and Lou. Not only did they have the first drive-thru speaker system in town but they also had incredible burgers, tater gems and many other mouth-watering foods.
In 1980 Ervin retired and his brother Roy took over the operations at Pac-Out. In 1996 his wife Lou passed away and sometime after he married Norene. Together they spent 13 years of marriage traveling the world and enjoying life in Redding where they walked the river trail each day.
In 2005, Ervin worked with his financial advisor and attorney to establish the Knodel Family Endowment Fund at the Community Foundation. He passed away in 2012 at the age of 95. Ervin hoped that others would gain from the legacy of giving that he established. He lived by the wisdom that he cannot take his money or possessions with him. So, it was his desire to create a structure within which he could continue to give back to this community for generations to come.
Your gifts help improve the quality of life in our North State region. Our online giving service is safe, convenient and secure. Make your gift by clicking on the Donate button below. We can accept Visa, MasterCard, and American Express.