Karen Copsey Memorial Fund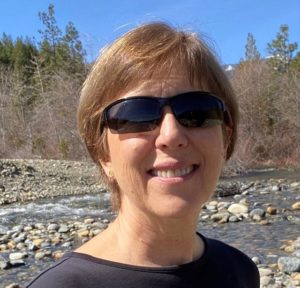 Karen Copsey passed away peacefully at home on January 13, 2023 after a brief but valiant battle with brain cancer. Karen graduated from Mt. Shasta High School and College of the Siskiyous, and earned her degree in architecture from U.C. Berkeley.
Karen was a pioneer for women architects in the north state, and her design work can be found throughout Northern California. She began her career restoring the historical buildings in Old Sacramento and later moved to Redding, where she was a partner at  Nichols, Melburg & Rossetto. During her 26 years with NM&R, she directed the completion of several projects at the College of the Siskiyous, including the Technology Centers at both the Yreka and the Weed campuses, and the main science building at the Weed campus. In addition, Karen completed projects for numerous other school districts and colleges, including Siskiyou Union High School District, Redding School District, Red Bluff Joint Union High School District, and College of the Redwoods. She also served as a licensing examiner for the California Architects Board and was a member of the Board of Directors of the College of the Siskiyous Foundation.
Karen was a creative force of nature. She was skilled at playing the guitar, piano, and violin, as well as vocal music. She was a talented artist and excelled at painting, drawing, sewing, quilting, and crafting. She loved to travel and was an expert skier, an avid hiker, and a certified yoga instructor. Karen retired to Mt. Shasta and devoted her time to these creative pursuits and activities. In recent years, she was an active member of the Siskiyou Art Association and the ArtRoster Atelier in Mt. Shasta.  Her watercolor and oil paintings feature everything from landscapes to portraits of pets and people and replicas of the masters. She recently completed a series of streetscapes from cities she had visited around the world. Her award-winning art was displayed in local galleries and shows, as well as at the Pence Gallery in Davis and The Forgery Show at Morris Adjmi Architects in New York.
Karen was especially close to her family and enjoyed spending time with her siblings, nieces, and nephews.  Her talent, humor, and kindness touched everyone who knew her. She will be greatly missed.
To carry on Karen's creative legacy, the Karen Copsey Memorial Fund has been established.  Donations will benefit the arts and art programs in Siskiyou County, allowing Karen's artistic spirit to live on.