Ivy B. Horr Medical Education Loan Fund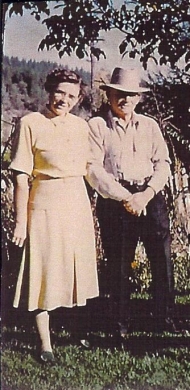 The Ivy B. Horr Endowed Medical Education Loan Fund was established by the late Mrs. Horr, a resident of Eastern Shasta County, from a portion of her estate. Loans up to $10,000 are made available to students in Shasta, Lassen, Tehama, Modoc, Trinity, or Siskiyou counties who are engaged in the study of medicine or in medical training at a college or university.
Ivy Buchler Horr was a resident of Glenburn near Fall River Mills from 1930 to her death in 1982. Born in El Dorado County, Ivy led a full life which eventually led her to the Fall River Valley in the cattle and lumber industry. Before she passed away, Ivy created a trust through which low interest loans could be awarded to students from Shasta, Lassen, Trinity, Tehama, Modoc & Siskiyou counties who were pursuing an education in medicine. In 2009 the trust was transferred into a fund at the Community Foundation allowing Ivy's legacy to continue on.
Ivy attended Chico State College and received a teaching degree. Teaching led her to Round Mountain where she soon met and married Harry Horr of Glenburn. Together they raised cattle, hay and grain on the Horr Ranch until Harry's death in 1966. After his death Ivy sold some of the Horr Ranch land to the State of California for Parks and Recreation Land. Soon thereafter she began a lumber supply company in Fall River Valley called Blue Heron Lumber. The rest of her life was devoted to the company, to traveling to other countries including New Zealand, Africa, Ireland and Russia on agricultural tours, and giving back to the Fall River community. She earned the honor of Fall River's Citizen of the Year in 1981 "for being an honest business person who provides many job opportunities for the community." In 1982, Ivy lost a battle with cancer, but her legacy remains through the Ivy B. Horr Medical Education Fund.
For more information about this LOAN opportunity please visit our scholarship page.