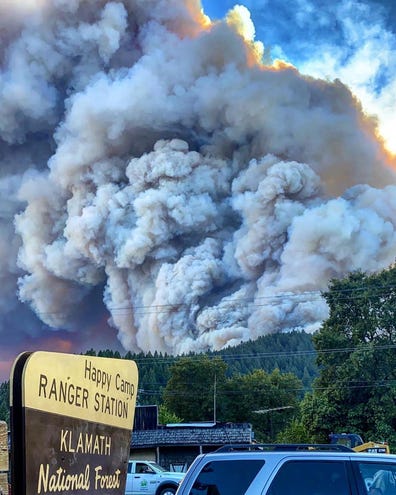 Happy Camp Relief Fund
The Happy Camp community and surrounding areas have been and continue to be severely impacted by the Slater Fire. With an estimated 150 homes already lost, the need is significant. Relief and recovery will be key to supporting those who have lost so much.
The Happy Camp Relief Fund has been enabled to receive donations for those impacted by the Slater Fire. Donations to this Fund will provide immediate, mid and long term support to those individuals, nonprofits, and community entities that have experienced great loss. Contributions from individual donors, corporations, and foundations can be accepted.
With guidance of the Community Foundation of the North State, a committee has been established and will make decisions on how best to distribute these funds to the victims of the Slater Fire who are most in need of support. The committee consists of a wide range of local, Happy Camp residents who have either lost their home and/or personal belongings, or were displaced as a result of the evacuation order. These local individuals include representatives from the following fields: education, public safety, law enforcement, the Karuk tribe, and the business community.
The panel will provide oversight and support to the decision-making process while the Community Foundation will provide best practices and lessons learned from other disaster experiences. We will work hand-in-hand to vet and determine best and greatest need as those needs emerge and are presented.
If your organization has a request for financial assistance, please call the Community Foundation at 530-244-1219. If you're an individual in need of assistance, please contact the Community Center at 530-493-5117.
Photo Credit: Jasen Vela
Grantmaking History
Your gifts help improve the quality of life in our North State region. Our online giving service is safe, convenient and secure. Make your gift by clicking on the Donate button below. We can accept Visa, MasterCard, and American Express.