Diane M. Gerard Scholarship Fund
This scholarship fund has been created in the memory of Diane Millicent Gerard (née Binkley), beloved wife, mother, grandmother, and community advocate, passed away on May 24, 2019 at the age of 85.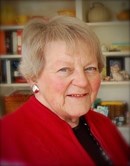 Born in Vancouver, Washington on October 13, 1933, Diane was raised in the countryside in a log house built by her father. She attended one-room Proebstel School until 1941, when her family relocated to Klamath Falls. After graduating from Klamath Union High School, Diane attended Oregon State University, where she received a BS in Education in 1955. After college, Diane followed her dream to live at the beach and began her teaching career in Santa Cruz, California.
While the allure of the sun and sand was powerful, greener pastures lay just over the mountains in Los Altos, where Diane transferred to teach kindergarten at Hillview School. It was not long before she captured the heart of fellow teacher, Louis Gerard, and on June 30, 1958 they were married in Los Altos. They relocated to Redding the following year to start their family. Diane and Lou raised their four children in Enterprise before decamping to Lower Springs in 1973, where they resided for 46 years. Although the home's destruction in the 2018 Carr Fire cast a substantial shadow on Diane's heart, she continued to look forward.
Diane's public spirit was strong and as a citizen of Redding and Shasta she found a calling in community service. She was sought-after for her even keeled ability to think critically and problem-solve with balance and equity. As it was Diane's earnest pleasure to serve others, she devoted much of her life to civic work and served on several boards of directors and was active in many service organizations, among which include: Northern California Campfire Council, Shasta Service Guild, Shasta Historical Society, Shasta High Band and Musicals Boosters, United Way, KIXE public television, League of Women Voters, Shasta Republican Women, Rotary Inner Wheel, American Association of University Women, PEO, Shasta County Juvenile Justice Commission, School Attendance Review Board, Shasta County Grand Jury, Redding Museum, Turtle Bay Development Alliance, Episcopal Community Services, Great Valley Center Foundation, Blood Centers of the Pacific, Jefferson Public Radio, Northern Valley Catholic Social Services, and Shasta County Board of Education – a post she held for 32 years. Honors include AAUW Woman of the Year (1981), Chamber of Commerce Virgil Covington Award (1993), and in 1994, Diane was honored Redding Citizen of the Year.
Diane will be deeply missed by her family, friends, and colleagues who loved her grace, kindness, and intelligent sense of humor, and learned to count on her knowledge of local history, and guidance on politics and justice.
For more information about this opportunity please visit our scholarship page.
Your gifts help improve the quality of life in our North State region. Our online giving service is safe, convenient and secure. Make your gift by clicking on the Donate button below. We can accept Visa, MasterCard, and American Express.