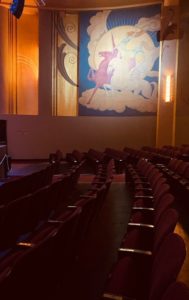 Memory can be a powerful thing. And collective memory is a whole other beast all together. Perhaps it is what has given such legs to the restoration of the State Theater in Red Bluff.
Sit a minute in one of the plush, burgundy seats that slope toward the center stage. Take in the spectacular winged Pegasus's flanking each wall lit by a gentle glow. There are stories to tell about this theater, about what it once was and now hopes to be again. Where a young kid with 25 cents in his pocket could buy the price of admission with a little bit of candy to spare.
"I began attending movies there in the mid-50's when the theatre and I were about 10 years old," said Bill Cornelius, an integral part of the group that spearheaded the theater's renovation project, which first took root in 2010.
"In those days most theaters including the State offered two feature films, a cartoon, a Buck Rodgers serial, and a national news reel, meaning that on a typical Saturday parents would send or drop off children who might spend 3-5 hours at the movies."
To say that that time was formative for Cornelius might be a bit of an understatement.
"To anyone who lived in this community, for 30 or 40 years ago, that was a sign of home," he said. "I believe the success that the State Theatre is enjoying today is directly attributable to what it meant to so many of us in simpler times gone by. It is a community treasure for sure."
Originally built in 1945 to replace a theater that had burned two years prior, the State Theater was one of the few theaters in the U.S. constructed during World War II. It didn't fully open until the spring of 1946 due to a wartime materials shortage. The theater closed permanently in 1993 and felt into disuse and disrepair.
By 2010, it was privately owned by Ben Sale and Ron Clark. Both Clark and Sale negotiated the sale of the theater at a lower than appraised value in their efforts to support the community project.
First came the government-backed mortgage in 2011, then the mortgage burning party in 2014 thanks to generous donations from the community. And in the subsequent years since, the focus has been on many different restoration projects including: new seating, new flooring, new lighting and sound systems, a new concession stand, the stage expansion, installation of curtains, phone booth restoration, overall auditorium renovation – and most recently, thanks to a Community Foundation grant, the replacement of the iconic neon blade that sits atop the State Theater.
Cornelius said in addition to the generosity of donors throughout the community, much of the work that has been done has been gifted at reduced rates, or even free of cost.
"You find people who are experts in these old theaters, and they live and die by it," he said. "And they'll do it for nothing because they just love it."
Despite a turbulent 2020, the State Theater reopened its doors in August of 2021 and has showcased a healthy line up of musical acts. Cornelius said he's hoping that fiscal sustainability is in the not to distant future. That, and replacing the current cooling system so that the theater is primed for the oppressive summer heat.
The theater is meant to be a respite, after all.
"That is what it is all about," Cornelius said. "That hometown values and hometown memories matter more than anything. At the end of the day, this community cares about this theater."