Lincoln Heights Community Fund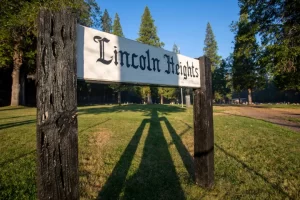 The Lincoln Heights Community Fund will support short, intermediate, and long-term recovery efforts in the community of Lincoln Heights in Weed, California following the devastation of the Mill Fire that started on September 2, 2022. The Fund will assist wildfire survivors by aiding nonprofits and/or public agencies that support individuals who lost housing or belongings. Types of assistance funded may include help to rebuild homes, case management services, basic needs assistance, mental health services, and financial assistance. Funding will be distributed by the Community Foundation Board and staff in the form of grants directed to the Lincoln Heights community on an ongoing and as needed basis.
Lincoln Heights has a proud history as a historically Black community formed in the 1920s around milling activities in the area. It is a close-knit community, where everyone knows everyone and works together to make the neighborhood a safe and welcoming space. This Fund is intended to benefit individuals and families in Lincoln Heights to ensure the community continues for many generations to come. By working with local community leaders and organizations in the distribution of grant dollars, this Fund will ensure that members of Lincoln Heights are directly served.